"We believe in good food, great ingredients"
I opened the doors of Sicilian Art on the 13th May 2015.  It had been my dream to bring together my 15 years experience in the food industry and the finest authentic Sicilian ingredients, to craft pizza's unsurpassed in quality and taste.  In a market saturated by restaurant chains and fast food production lines, I want to provide a food experience which excites the palate and is distinctly, authentic Sicilian.
Why Pizza? This cuisine has been part of my life for as long as I can remember.  I loved to eat it, then I learnt to cook it, beginning at the age of 16, by helping to prepare the ingredients for a pizza chef in Sicily.  Now I want to share my passion by making simply delicious pizzas using absolutely, the best ingredients and our own unique techniques to give you the perfect pizza.
In 2008 I won 2nd place in the World Pizza Championship for taste and 1st place for speed. I also won 2nd and 3rd place out of 67 countries in The World Association of Chefs Society.
I hope you will give us the opportunity to welcome you to Sicilian Art, where you will taste the best Sicilian pizza outside of Sicily.
Giulian
 Guilian shows the fakers how it should be done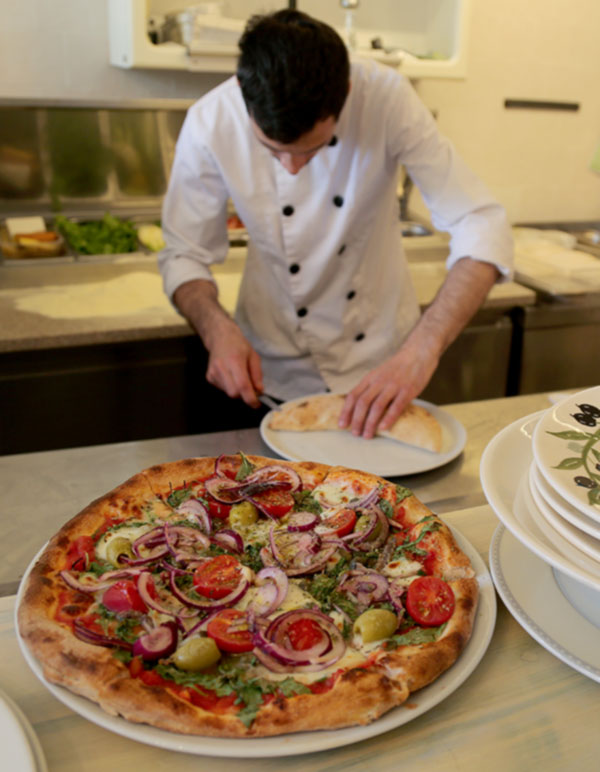 Please Note
We are now fully licensed.  See Drinks for more info.
You can eat in or collect from our restaurant to takeaway.
Those with gluten intolerance, we have sourced the best gluten free flour from Sicily – Ask Inside.